Khamzat 'Borz' Chimaev (10-0-0) dominated Jingliang Li (18-7-0) at UFC 267. 'Borz' secured a first round submission over 'The Leech' just over 3 minutes into their bout. With this win Khamzat most likely secures his spot in the welterweight top 10. He silences any doubters who thought he hadn't proven himself against top opposition.
Khamzat manhandled and destroyed the UFC's 11th ranked welterweight and didn't even absorb a single strike. This moves Khamzat's strike differential to 254-1 in the UFC, which is insanely impressive.
What's next for Khamzat Chimaev?
The next fight for Chimaev could be in the welterweight top 10. Now lets take a look at some of the most notable opponents and how Khamzat might match up.
View our predictions for UFC 267 and see how they played out.
The top 5 opponents for Khamzat Chimaev in the UFC welterweight division
Leon Edwards
Leon 'Rocky' Edwards (19-3-0) has been a main staple in the UFCs welterweight division for almost 8 years now. Edwards has an exceptional striking game, solid wrestling and ground game, and the patience of a saint!
This fight is intriguing, as Leon is a very patient point striker, who excels at clinch fighting and trips.
We feel that Edwards doesn't have the wrestling pedigree to deny Khamzat the takedowns he needs to dominate the fight. Granted Leon could deny a takedown we think it'd be competitive on the feet.
What we think about Edwards vs Chimaev – Chimaev via. Submission or UD
Neil Magny
Neil 'The Haitian Sensation' Magny (25-8-0) has been calling Chimaev out for a fight every other week. Magny poses as an interesting matchup, as a proven wrestler with smothering offense. Magny is a natural point of progression for the Chechen native, being ranked within the top 10. A victory over Magny would put Chimaev in contention for a spot in the top 5.
Magny is a strong wrestler but he struggles with large, stronger opponents. Magny's last defeat to Michael Chiesa saw him out-muscled and out grappled to a UD loss. By all means Magny provides a wrestling threat, but nevertheless he doesn't have the level of striking to deny Khamzat on the feet.
What we think about Chimaev vs Magny – Chimaev via. UD
Stephen Thomson
Shining personality Stephen 'Wonderboy' Thomson (16-5-1) is one of, is not the best striker the UFC has to offer. Wonderboy actually has a kickboxing record of 58-0! That said, a majority of 'Wonderboy's' decisive UFC losses have come at the hands of overwhelming grapplers like Tyron Woodley and most recently Gilbert Burns.
Further to the point, Gilburt Burns applied a very heavy grappling game plan and smothered 'Wonderboy' for the unanimous decision victory. The outcome of the fight depends on whether Thomson improves his wrestling defence as a result of the loss to Burns.
We anticipate that Chimaev vs Thomson would be a mirror match of what happened with Burns. 'Wonderboy' has the ability to deny Khamzat with his elite karate striking, but on the other hand he doesn't have the wrestling pedigree to prevent the inevitable takedowns.
What we think about Wonderboy vs Chimaev – Chimaev UD, if Wonderboy can stay on the feet, Wonderboy UD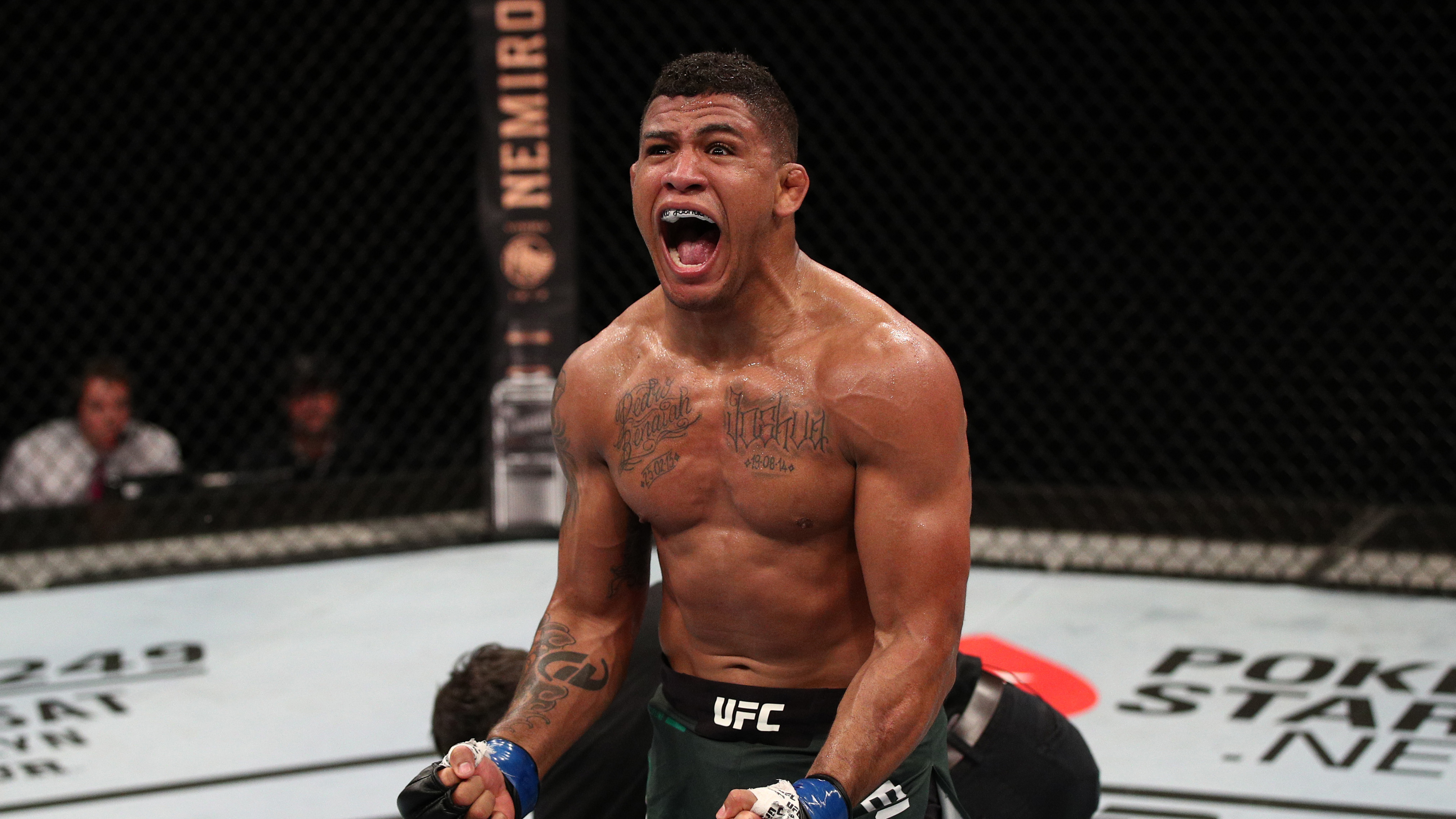 Gilbert Burns
Brazilian phenom Gilbert 'Durinho' Burns (20-4-0) is the second most dangerous man in the UFC's welterweight division. Burns combines a hyper aggressive striking style with his masterful Brazilian jiu-jitsu to become one of the most threatening forces in the division.
Burns hasn't slowed after his TKO loss to champ Kamaru Usman, proving his spot with a smothering domination of Stephen Thomson last July. It's this aggression, grappling expertise and willingness to exchange on the feet that makes us think 'Durinho' could be the one to test Khamzat the most, if not take his 0!
Burns proves he has world level BJJ, mixed with his mauling striking, he's a force to be reckoned with on the feet and on the ground.
What we think about Burns vs Chimaev – Burns by UD/TKO/SUB
Kamaru Usman
'The Nigerian Nightmare' Kamaru Usman (19-1-0) is without equal. Usman is the undisputed king of the UFC's welterweight division, and is showing no signs of slowing down. We've seen Usman dispatch of several top 10 fighters, most recently Gilbert Burns and Jorge Masvidal.
'The Nigerian Nightmare' is an apt name for Usman, who demonstrates some of the best cardio the UFC has ever seen, mixed with a relentless wrestling attack, and as he's proven recently, an improved striking game to be feared.
Kamaru is the ultimate test for any fighter in the 170lb division, and we think he has the standout striking game, relentless wrestling and endless cardio to beat Khamzat in dominant fashion.
What we think about Usman vs Khamzat – Usman by UD/TKO
Do you agree with our takes? Feel free to comment below!
Mathew is a UK based combat sports writer. His work can be found in MMAKnockout and Heavy on UFC. Contact Mat via [email protected]