Fan favourite Kris Moutinho finally returns after his debut against Sean O'Malley way back in October last year. He's been handed somebody comparatively closer to his skill level in Guido Cannetti. Does Moutinho win and continue his fan fare in the UFC, or does Cannetti steal the American's momentum with a decisive victory?
Kris Moutinho vs Guido Cannetti Prediction
Feel free to check out my other predictions here
As we saw with Kris Moutinho, the man has the heart of a lion and the durability of a rhino. It was a standing finish in his match with O'Malley, the ref had seen enough and it can't be complained about. However, there was 30 seconds left on the clock and it looked like Moutinho could've seen that final bell. He really brought it to O'Malley, and it looked like if he did a bit of work on his style and training, he could actually be a rather impressive fighter in the UFC. It stands to test whether the same Moutinho will show up this weekend. Where the underdog mentality might disappear, he now fights to keep his place on the UFC roster versus a relatively unknown opponent.
Moutinho does have fairly decent boxing, wrestling, and takedown defence. What Moutinho lacks a lot of, is striking defence. Even before the demolition job from O'Malley, Moutinho was starring in fights where he was taking bombs to the face without even flinching. He's relatively slow but when he does go to work on his opponents, he has good combinations and a nice ability to chase the action. How does Guido Cannetti compare?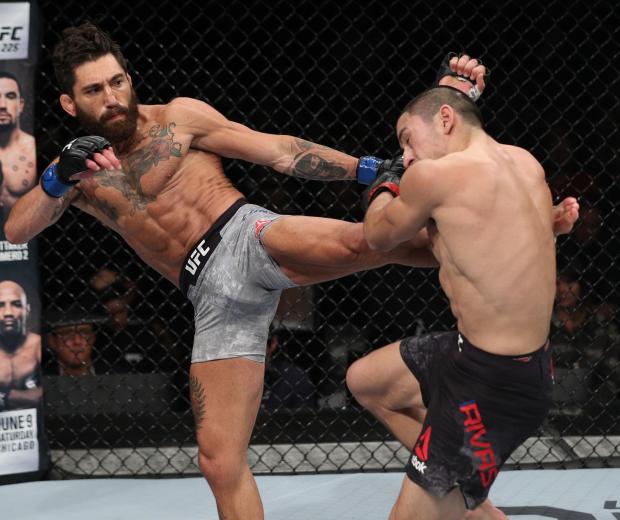 Cannetti is levels above Moutinho in terms of speed and power. A southpaw fighter, Cannetti has that herky jerky style that allows him to blast leg kicks and take his opponents by surprise. He's also susceptible to leg kicks since his stance is very low and wide. Moutinho can look to suppress the mobility of Cannetti with leg kicks, if he can catch him. Cannetti also makes good use of straight punches which should give Moutinho a lot of trouble.
Moutinho's lack of good defence is a crucial weakness, whether he's fixed it in less than half a year is the question. Whether his improvements suddenly drop off when he gets punched in the mouth is another thing. Cannetti has all the tools to punish Moutinho in this fight, faster hands, faster feet, and even a decent ground game. All signs point to a Cannetti domination.
My pick – Guido Cannetti by UD
Kris Moutinho vs Guido Cannetti Betting Suggestion
Cannetti is actually the underdog sitting at 5/4 on Bet365. These odds should be very tempting considering Moutinho's lack of defence and gung ho style of fighting.
Thank you for reading! Feel free to drop a comment below or subscribe to my newsletter.
Mathew is a UK based combat sports writer. His work can be found in MMAKnockout and Heavy on UFC. Contact Mat via [email protected]