It's almost that time, a UFC title fight that will inevitably have my heart beating out of my chest. My excitement can't be contained; I'll sacrifice a decent sleep schedule, my first born child, and a few brain cells in order to stay up until fuck-off O'clock to see this fight on Sunday morning. The fatigue at work on Monday will hit me like an Ngannou uppercut. But alas, UFC 270: Ngannou vs Gane is worth it.
I don't buy into the wolf tickets the UFC is selling, media outlets are trying to sell animosity between the champion and challenger that just isn't there. In truth, Gane revealed that he only saw Ngannou in the MMA Factory for a few weeks at most. They're hardly familiar with one another, but here we are.
See: The Gane vs Ngannou sparring footage everyone is talking about
Although the card has been plagued with drop outs and late replacements, it's still stacked top to bottom with interesting matchups.
I'm going to run through the entire card bottom to top, analysing and predicting the outcomes with my scary accuracy. Like always, I'll pop some bets on these fights as a parlay, I could become a thousandiare!
My predictions for UFC 270: Ngannou vs Gane
UFC 270 Ngannou vs Gane – Early Prelims Analysis, Predictions
Kay Hansen vs Jasmine Jasudavicius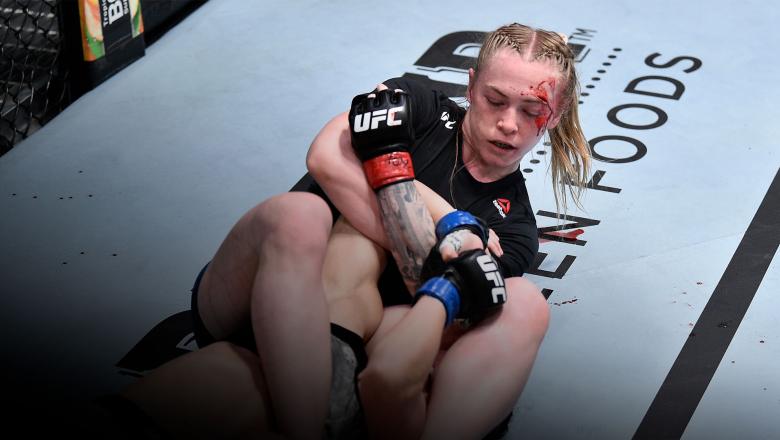 Not the most exciting start to the card, but we do have a very competent grappler in Kay Hansen, taking on the UFC newcomer in Jasmine Jasudavicius. Jasudavicius is a well rounded fighter with decent striking, we can assume her grappling won't be on the same level as 10th Planet Jiu Jitsu's Kay Hansen.
I see Hansen with the experience advantage, but Jasmine out striking her on the feet. Though with most WMMA matches, it should end up on the ground, where I see Hansen either securing a submission, or controlling the fight for a UD win. If it stays on the feet it's going to be a war of attrition, and Jasmine has good knees (her only two TKO wins are by knees), so Hansen kneeds to be aware of this. (sorry)
My pick – Hansen by UD
Matt Frevola vs Genaro Valdez
This is Matt Frevola's first appearance since his 7 second knockout loss to Terrence McKinney last June. 'The Steamrolla' welcomes yet another UFC newcomer in Genaro Valdez. Valdez is a training partner of Brandon Moreno, and remains undefeated with a 100% finishing rate in 10 wins. It's safe to say Frevola has his work cut out for him.
It sucks to see, but this fight is probably make or break for Frevola, who has had an incredibly rough run in the UFC thus far. Frevola is 2-3-1 in the UFC, and one of those wins is a SD win over Luis Pena. So it seems like the UFC may be using Frevola as a marginally recognisable name for Valdez to stomp on his debut.
I see Valdez winning this fight handily, but I love a good underdog win, so best of luck to Frevola.
My pick – Valdez by KO/TKO
Silvana Gomez Juarez vs Vanessa Demopoulos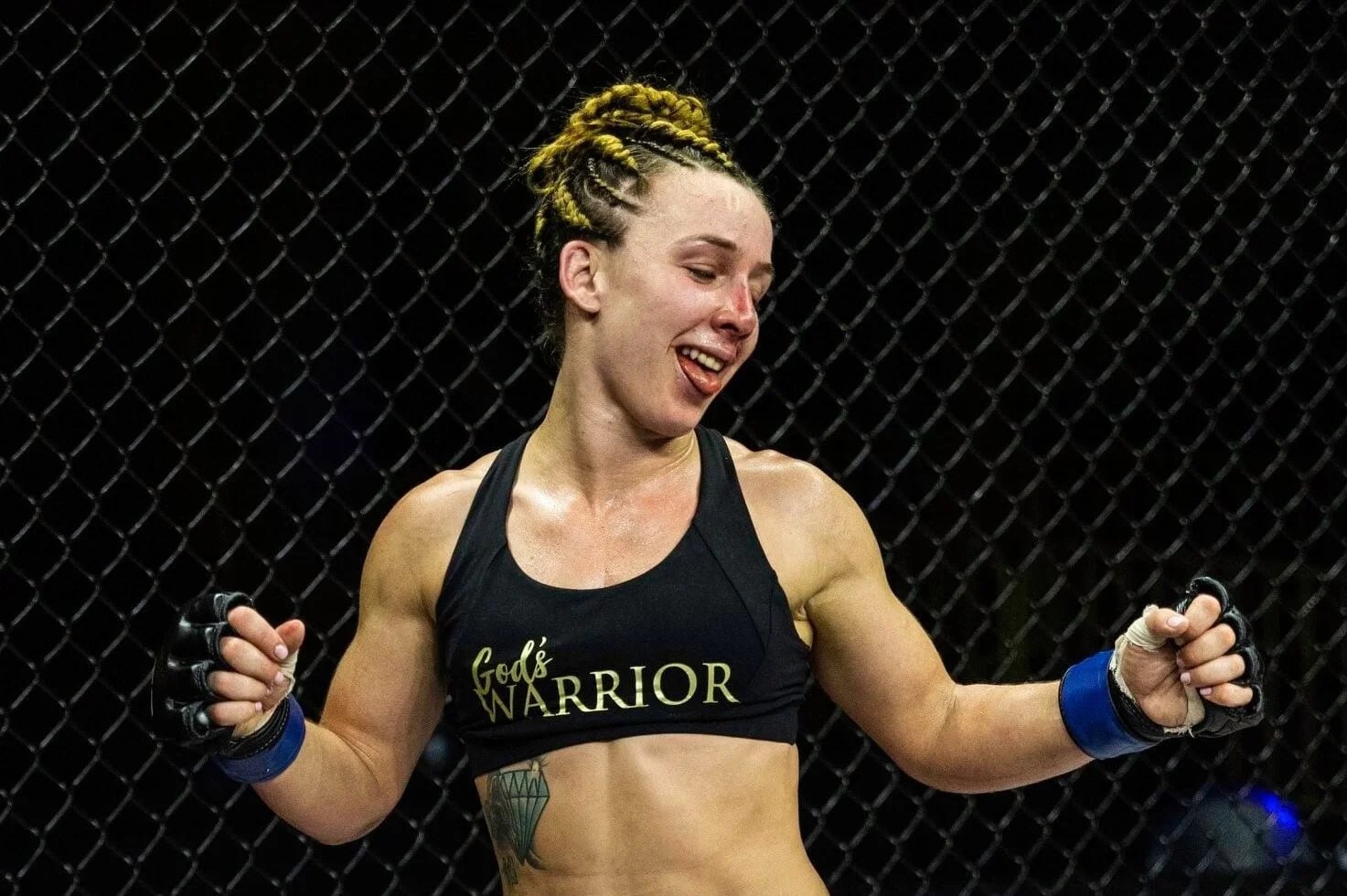 It's easy to look at the records of these two fighters and assume that Silvana Gomez Juarez will clobber Vanessa Demopoulos. On the contrary, I think Demopoulos has the experience advantage. She's fought higher level opposition in the form of J.J Aldrich, Cory McKenna and Lupita Godinez.
Where the fight gets interesting is in the striking and takedowns. Demopoulos is the taller fighter, but with a slimmer frame and surprisingly a shorter reach than Juarez. If she can't deny Juarez on the feet, then she undeniably will have trouble with the striking (Juarez has an impressive 60% TKO/KO record). And because of the inevitable difference in strength between the stockier Juarez and lanky Demopoulos, I don't see Demopoulos making any dents on the ground either.
My pick – Juarez by UD
Michael Morales vs Trevin Giles
This is a great striking matchup. Trevin Giles has decent octagon experience in this fight, and welcomes Michael Morales to the UFC in what should be an exciting fight. Morales is undefeated and boasts a 75% knockout ratio in his 12 wins, he's a DWCS alumni, and Giles his is biggest test to date.
Trevin Giles is returning after his KO loss to Driccus Du Plessis last July. Plessis is a hot prospect at middleweight, and I had Giles winning the fight until that weird knockout, Plessis has a habit of losing until he gets a strange knockout so it's nothing to base Giles off of.
If you take a look at Giles' resumé, he has wins over some incredible names such as James Krause, Ryan Spann, and Brendan Allen! I think Giles has seen it all at this point in his career, and he's not going to succumb to a power puncher like Morales. Giles may even up the ante by implementing some ground work, exhausting Morales for a UD win.
My pick – Giles by UD
Tony Gravely vs Saimon Oliveira
Here's some fun facts about Tony Gravely. Gravely has fought Kris Moutinho, Patrick Mix, Merab Dvalishvili, and Ricky Bandejas, all before entering the UFC. Gravely has also had 7 fights since 2019! It's always fun to see how fighters crossed paths before entering the big leagues.
Tony may be coming into this fight with something to prove, since it's his first appearance since losing by TKO to Nathan Maness last September. He's up against tough opposition in the debuting Saimon Oliveira. Gravely, like in most of his fights, will aim to take Oliveira down and control on the ground. Oliveira has a 100% takedown defense, and plenty of submissions (61%) to his record, so it will be interesting to see if Gravely is good enough step up in competition to break that 100% takedown defense.
Issues arise for Gravely in the grappling department. Gravely is a strong wrestler but Oliveira has good submission grappling, there could be a chance one of Gravely's takedowns is reversed and taken advantage of. It really comes down to just how good was Oliveira's competition before entering the UFC, because I have Gravely with the massive experience advantage. It could be an ugly fight but I predict a Gravely UD.
My pick – Tony Gravely by UD
UFC 270 Ngannou vs Gane – Prelims Predictions & Analysis
Jack Della Maddalena vs Pete Rodriguez
Practically this whole card is UFC newcomers. Both of these men are making their UFC debuts, Jack Della Maddalena is coming from DWCS whilst Pete Rodriguez is a late replacement for Warley Alves. I would have had Warley Ales wining this fight before, as Alves is easily one of the most explosive fighters on the roster, with fight experience to boot.
Expect fireworks in this matchup as there is one decision victory in the combined 14 wins these men have. Maddalena is a very hot prospect, with exceptional striking, he's just brutal. I don't think this bodes well for Rodriguez, as being a late replacement on the world stage against one of the UFC's up-and-comers usually doesn't pay off well.
I take Maddalena by finish, but my support still goes out to Rodriguez, a good late replacement win is always exciting.
My pick – Maddalena by KO/TKO
Ilia Topuria vs Charles Jourdain
Another late replacement on this card, Charles Jourdain fills in for Movsar Evloev against 'the next big thing' Ilia Topuria. As much as the original matchup with Evloev made sense, I'm still hugely excited for this fight. I'm surprised it's in the middle of the prelims, since I think Topuria is a potential needle mover, but I understand having him on the prelims will help with the viewer retention, and show some spectacle to the casual fans.
Charles Jourdain not as helpless as fans assume at UFC 270 Ngannou vs Gane
A lot of people are writing Charles Jourdain off in this matchup. I think he stands much more of a chance than people give him credit for. Jourdain might be coming in on late notice, but his last fight was only a few weeks ago, so he should be in top notch physical condition. Jourdain is coming off of an emphatic win over Andre Newell, where he battered Newell around the octagon and flattened him with a flush teep on the final bell.
The takeaway from Jourdain's last performance is that he came with something to prove. He said it himself, it was the last fight on his contract and if he lost it could have been the end of his UFC career, so in response, he beat the shit out of Newell. I see a replenished Jourdain coming into this fight looking to prove the doubters wrong in a big way.
Ilia Topuria – All he's hyped up to be?
In terms of Ilia Topuria, this is an undefeated fighter that has ploughed through the opposition put Infront of him so far. Though, I don't give Topuria much credit for what he's achieved. Topuria, since joining the UFC, has a decision victory over an unimpressive Youssef Zalal, a KO over Damon Jackson (a grappler), and a KO over Ryan Hall, who specializes in wheel kicks and heel hooks. I think if Topuria runs through Jourdain I'll be completely sold on him. Until then, I think he's going to have a tough time with an opponent that actually stands and trades, as well as having an impressive gas tank.
My controversial pick – Jourdain by UD
Raoni Barcelos vs Victor Henry
I was highly impressed with Raoni Barcelos in his last fight with Timur Valiev, It's a shame that he lost the decision. If he just pushed himself 10% harder I think he would have won that fight handily, I don't even count it as a loss on his shiny record. Barcelos is top of the pack in terms of skill, reactions and experience, I'm quite surprised he isn't ranked.
Victor Henry is yet another UFC newcomer on this card and doesn't hold a light to the level of experience that Barcelos brings into this fight. It's not out of the question that he can somehow win this fight, but it seems like it should be light work for Barcelos.
My pick – Barcelos by UD
Rodolfo Vieira vs Wellington Turman
Finally a fight that doesn't feature at least one UFC debut! I'm not sure why this is headlining the prelims instead of Topuria or even Barcelos, but never the less, it should be exciting.
Although Wellington Turman definitely has the experience advantage, he's had a pretty terrible run in the UFC so far. Turman is 2-2 in the UFC with one of his two wins being a SD victory over the 2021 version of Sam Alvey (Alvey is on a 7 fight skid as I write this. Turman is that 7th fight).
Rodolfo Vieira on the other hand, is 3-1 in the UFC, and has a 100% finish rate, with 88% of his wins coming by submission. I see Vieira wining this handily on the ground and possibly retiring Turman from the UFC.
My pick – Vieira by Submission
UFC 270 Ngannou vs Gane Main Card – Predictions & Analysis
Cody Stamann vs Said Nurmagomedov
Nope he's not related to Khabib. However, Said Nurmagomedov is an impressive fighter with skills both on the feet and on the ground. Nurmagomedov has made a good name for himself, after highlight reel knockouts of Ricardo Ramos and Mark Striegl. Nurmagomedov has only lost to the aforementioned Raomi Barcelos in the UFC, which is nothing to be ashamed of.
Plenty of fans see the name Nurmagomedov and assume the guy is a killer, but his opponent Cody Stamann shouldn't be underestimated. Stamann has fantastic mental fortitude, cardio and wrestling. If Nurmagomedov can't keep up with Stamann's pace, he could throw the fight away. On the flipside, Nurmagomedov has proven to be a pretty lethal striker and competent grappler, and he has his fair share of decisions.
I don't see Stamann being a threat on the feet or ground, as he's not known for his finishes. He's going to try and grind and outpoint Nurmagomedov to an ugly decision victory. That said, Nurmagomedov has the striking and grappling to give Stamann all sorts of problems.
My pick – Nurmagomedov by UD
Michel Pereira vs Andre Fialho
This is a real fan pleaser fight, we have Mr. Back Flip vs Mr. Knock Your Block Off. Michel Pereira is mostly known for his ridiculous cage antics, using his insane athleticism to backflip and do other ridiculous things to land unorthodox strikes. I think people underrate Pereira in some ways, like he doesn't have as much skill as he does. He's a bit like a Yoel Romero, absolutely stacked, insanely athletic, bouncy, mean, and he hits hard.
We've seen a toned back version of Pereira lately, the type that whooped Diego Sanchez and scraped by Khaos Williams and Niko Price in decision victories. All the tools are there, he just needs to put it together.
Andre Fialho is another late notice replacement, this time filling in for Muslim Salikhov, which was a way more interesting matchup. Fialho boasts an impressive record of 14-3, with 86% of his wins being finishes.
I just don't see a late notice replacement being able to cope with Pereira's unorthodox style. Not to mention the fact that Pereira has had a full camp, and was training for an elite striker in Salikhov.
My pick – Pereira by Submission
Brandon Moreno vs Deiveson Figueiredo
Into the big leagues! Following the recent UFC instant rematch trend, Brandon Moreno is set to defend the belt that he dominantly took from Figgy in their second fight last June.
I see a lot of people writing Figueiredo off in this trilogy, citing that Moreno whooped him in the rematch and that it's out of the question. Whilst I believe Moreno has his number (first fight was very competitive and Figgy was rocked several times, second fight Moreno won handily.), Figgy will always have that Ngannou effect. He hits hard for his weight class and has superb killer instinct.
I predict that Moreno will stay light on his feet and light Figgy up from the outside. The right hand is always there for Figgy though so Moreno has to play cautious. Overall I think Moreno takes this fight.
My pick – Moreno by UD
Francis Ngannou vs Ciryl Gane
UFC 270 Ngannou vs Gane Fight Fanatic Prediction
This fight is surrounded by so much intrigue, I don't know where to start. Here we have unstoppable force vs immovable object, Ford Escort vs French phenom. Both of these fighters hold so much raw talent and fanfare, that it's a legitimate 50/50 split in the MMA community as to who wins. Here's my take:
Francis Ngannou – Much more than just a big punch
I don't know who needs reminding, but Ngannou is more than just a round 1 blitz and a big knockout. As we saw in his rematch with Miocic, a much more revised Ngannou awaits Gane this weekend. Although the fight was shorter, Ngannou defended 100% of takedowns against Stipé, and showed great patience and strike selection.
The Ngannou we saw sparring Gane in that footage is going to be much different to the one we're going to see this weekend. The general consensus seems to be that Francis literally only has a chance on the feet, which seems asinine. Ngannou showed much more wrestling prowess, shot selection, takedown defense and cardio in that Stipé rematch, and it means a lot!
Ciryl Gane – More than a point scorer
Why does it seem like people are forgetting that Ciryl Gane is a stacked 6'4 heavyweight? He can hit like a truck, he just chooses his shots and conserves the energy. Gane is technically more proficient than Francis, lighter on the feet, with insane cardio for a heavyweight. There isn't a doubt in my mind that if Gane can weather the early storm, it's going to be a hard night for Francis as Gane can take it into deep waters.
Gane does a few things well that Francis may struggle with, this includes:
Distance management. He's never in striking range, whether that's too far away, or too close for comfort.
Excellent dirty boxing and clinch work. Gane baits hungry opponents by evading their flurries, then mixing it up by stepping into his opponent when they don't expect it. This is where he implements short strikes, knees, elbows and clinching.
Superb feints and walking opponents into shots. Gane switches stances very often, dragging his feet as though to throw roundhouse kicks. He mixes this up by double switching stances into straight punches, teeps and elbows.
It's hard to say, but I give Ciryl the edge here. He's the superior technician, and probably has the better grappling. Not to mention, Gane has legit 25 minute cardio and is none stop all the way throughout. You can never count Francis out though, he could knock you out with each fingertip.
I think Gane outpoints Francis and plays safe in the opening rounds, before capitalizing on sloppy mistakes Francis will make when he starts to get tired. He might even mix it up with some takedowns and grappling. That said, Ngannou by 30 second knockout. Nah, I'm joking.
My pick – Gane by KO/TKO rd 3,4,5
What are your predictions for UFC 270 Ngannou vs Gane? How do they match up to mine? Think my picks are stupid? Why nto comment below, we can compare come Sunday morning!
Mathew is a UK based combat sports writer. His work can be found in MMAKnockout and Heavy on UFC. Contact Mat via [email protected]