With UFC 267 just gone by, UFC 268 is already upon us! Although it has lost some great potential with the Luke Rockhold pull-out, it's still an exciting night of fights! Kamaru Usman will face his biggest rival, Colby 'Chaos' Covington for the second time, to solidify his championship reign. We'll see the rematch of 'Thug' Rose Namajunas against Weili Zhang, as well as the people's fight of the night, Justin Gaethje against Michael Chandler!
Let's not forget appearances from Frankie Edgar, Marlon Vera, Shane Burgos, Edmen Shahbazyan and Al Iaquinta to name a few. Let's dive right in from the bottom of the early prelims!
Ode Osbourne vs Carlos Vergara
Anticipate violence in the first fight of the night, as contender's series alumni Carlos 'CJ' Vergara (9-2-1) takes on underrated Ode 'The Jamaican Sensation' Osbourne (9-4-0-1). Osbourne's last fight was against Manel Kape, he was winning the fight before being finished with a flying knee.
Between both men, they have 14 finishes and 3 decision wins combined. 'CJ' in particular is on a five fight finishing streak, so expect fireworks.
We think Vergara has the upper hand in this matchup as the stronger fighter. Vergara has momentum from his last five fights and will make his UFC debut with something to prove. On the other hand, Osbourne has had a lacklustre UFC career, this fight may be make or break for 'The Jamaican Sensation'.
Our prediction – Carlos 'CJ' Vergara by KO/TKO
Melsik Baghdasaryan vs Bruno Souza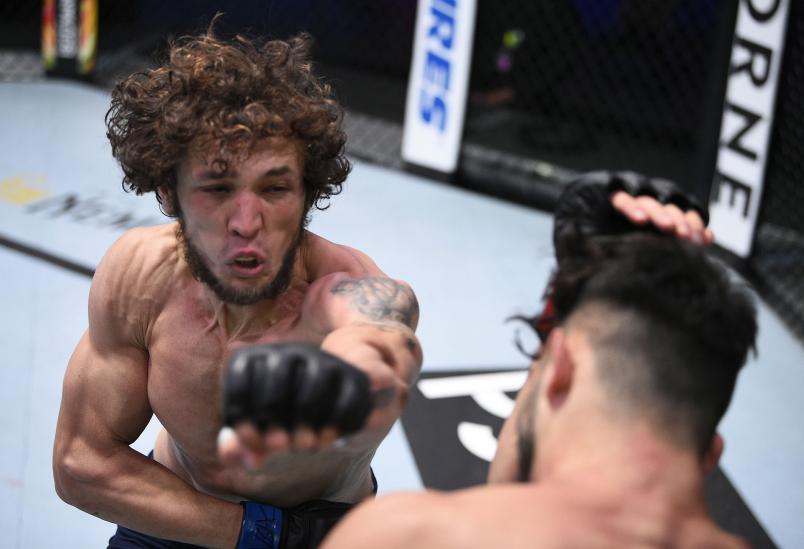 Two relative unknowns face off in the early prelims as Melsik Baghdasaryan (6-1-0) makes his second official UFC appearance, and Bruno Souza (10-1-0) makes his debut. Melsik, like Vergara previously, is another finisher, holding five knockouts in his six total wins. Souza on the other hand has six decisions (half being split decisions) with only three finishes and one DQ.
Souza's weak resumé leads us to believe he won't hold up against Baghdasaryan, who already holds a win in the UFC and has the power to end the fight at any moment.
Our prediction – Melsik Baghdasaryan by KO/TKO
Aleksa Camur vs John Allan
Both of these fighters have had a rough start in the UFC, but there's no denying this fight will be dynamite! With a combined 17 finishes and 2 decisions between the fighters, it's going to be high risk, high reward! Aleksa Camur (6-2-0) is the favourite to win, but has half the fight experience of John 'The Hunter' Allan (13-6-0-1).
This is a real coinflip fight, but with Allan's larger resumé, we're going to pick him over Camur to win. Allan hasn't been knocked out in 20 fights, and has only been submitted or outpointed. Allan has also fought the better opposition in the UFC.
Our pick – John Allan by KO/TKO, otherwise, Camur UD
Gian Villante vs Chris Barnett
On paper, this fight should deliver. Both men have plenty of knockouts to their name. This seems like a gimme fight for Chris 'Huggy Bear' Barnett (21-7-0), who made his UFC debut against Ben Rothwell, losing a miserable, sweaty, exhausting decision that utterly failed to impress. The UFC matchmakers seem keen to give Barnett sloppy fights, as Gian Villante (17-13-0) is a hit or miss fighter who probably shouldn't be on the UFC roster any more.
We see several outcomes, Barnett knocks out Villante or cruises to a tiring UD win, or Villante comes with something to prove and pulls off an unexpected win.
Our pick – Barnett by KO/TKO/UD
Ian Garry vs Jordan Williams
Jordan 'Bomaye' Williams (9-5-0-1) without a doubt has the power to knock out anybody he's placed in front of. Williams was a hot prospect from DWCS who was thrown immediately to the wolves versus Nassourdine Imavov, and was then granted a gimme fight in Mickey Gall, who proceed to submit him with a RNC. In short, Williams has failed to deliver on the world's biggest stage, but this is his chance to regain that momentum.
Ian 'The Future' Garry (7-0-0) is yet another Irish Cage Warriors champ coming to the UFC to make a name for himself. We think that the lack of diversity in William's arsenal is his prime downfall in this matchup. Knockout power can only carry you so far, and he showed a lack of expertise on the ground versus Mickey Gall in their match. Garry has proven at least once to submit opponents, and has the ability to see fights to the final bell as well as produce knockouts. For this reason, we have Garry winning this fight, it just feels like they're throwing Williams to the wolves yet again.
Our pick – Ian Garry by UD
Edmen Shahbazyan vs Nassourdine Imavov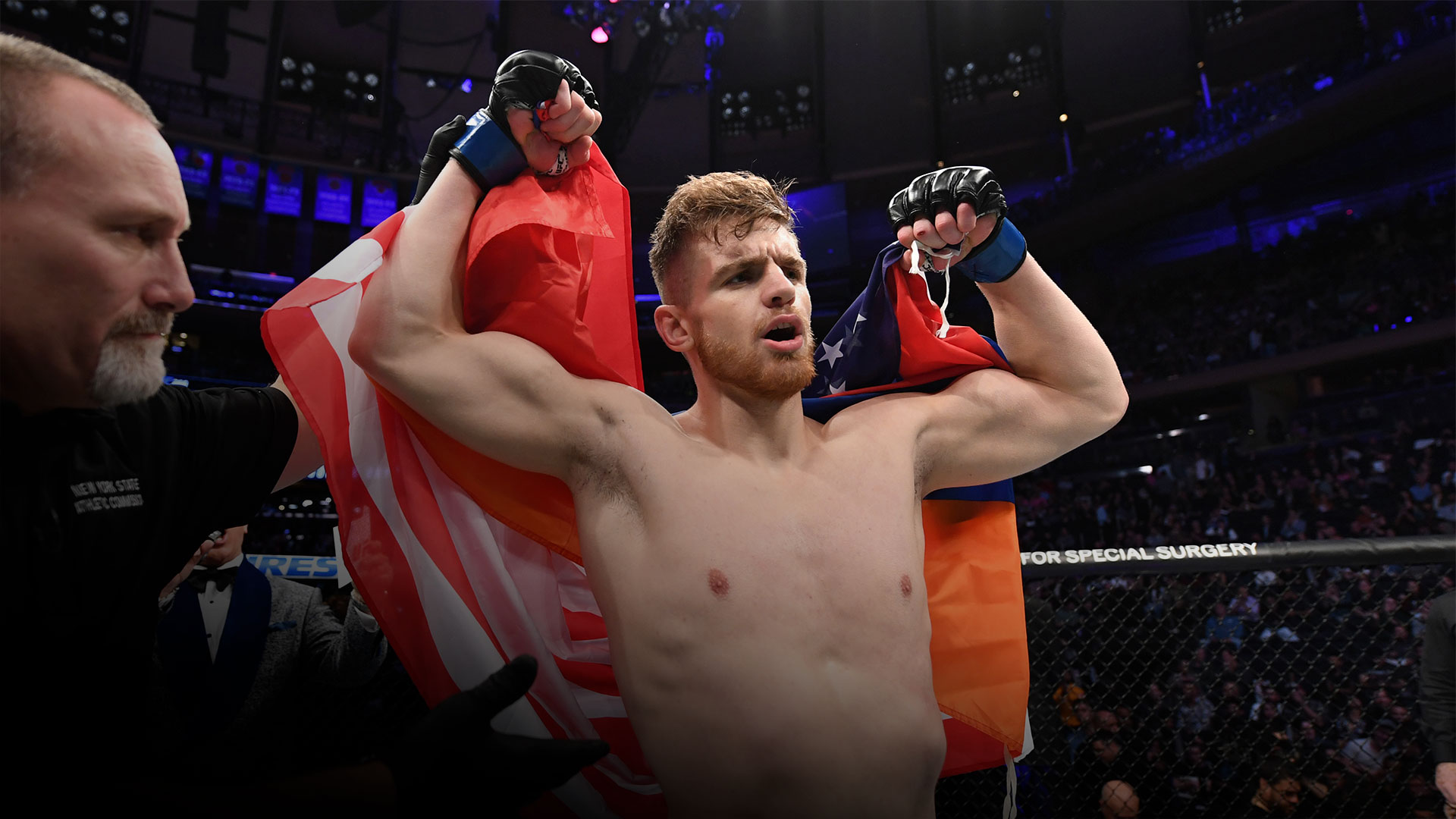 These two men are on even grounds, with Edmen taking the slight advantage in level of opposition. Edmen 'The Golden Boy' Shahbazyan (11-2-0) can't catch a break, though, with his last two fights being losses to two of the top five in the division! Nassourdine Imavov is coming off of a recent KO win over Ian Heinisch back in July, previously losing to Phil Hawes, and before that beating previously mentioned Jordan Williams via UD.
This is a real coinflip fight, but we think Edmen has the edge with his higher level of opposition. Edmen has fantastic striking, great grappling, and hopefully he's improved his cardio for this fight. Having lost only to the top of the division, we think Edmen takes this.
Our pick – Edmen by UD
Phil Hawes vs Chris Curtis
Phil 'Megatron' Hawes (11-2) is having an exceptional run in the UFC, with wins over the aforementioned Nassourdine Imavov, and recently top prospect Kyle Daukaus. Chris 'The Action Man' Curtis (26-8) on the other hand, is making his anticipated UFC debut, after a long sting on the regional circuit and on PFL. Curtis has plenty more losses in a variety of fashions, but one thing is for sure, he has a lot more fight experience than Hawes. However this doesn't count for much if the opposition isn't of a high level, and Curtis has lost most of his high profile matchups. Hawes has won his high level matchups, and because of this we believe his resumé to be stronger.
Our pick – Hawes by UD
Al Iaquinta vs Bobby Green
'Raging' Al Iaquinta (14-6-1) makes his long anticipated return to the octagon, last appearing in 2019. Bobby 'King' Green (27-12-1) has been more active as of late, and is equally a veteran of the sport. Iaquinta holds some impressive wins in his career, such as two wins over Kevin Lee, a decision victory over Jorge Masvidal, and a KO win over Diego Sanchez. Much credit also goes to Iaquinta for taking Khabib to a decision.
Bobby Green may not have the big wins on his resumé, but he's fought some of the best, and has only lost to top contenders in his career. Green is coming off of a decision loss to Rafael Fiziev, and the fact he can take someone like Fiziev to a decision and make it competitive even in the tail end of his career, says a lot about his ability coming into this fight.
We believe Green has what it takes to derail Iaquinta's comeback, though Iaquinta is resilient enough where we don't think there will be a finish.
Our pick – Green by UD
Alex Pereira vs Andreas Michailidis
Former Glory Kickboxing world champion Alex 'Poatan' Pereira (3-1-0) makes his much anticipated UFC debut against Andreas 'Spartan' Michailidis (13-4-0). Pereira is the proud owner of middleweight champion Israel Adesanya's only knockout loss in his combat sports career. It is the grudge match between Adesanya and Pereira that we imagine the UFC would like to push, granted Pereira can be successful in his debut.
Michailidis has an impressive record of 13-4, with a mixed variety of knockout and submission wins, and all of his losses coming from KO/TKO. Standing 4 inches taller than Andreas, Pereira will undoubtedly have the reach advantage, and without question the striking advantage considering his background. Alex has out of this world knockout power, mixed with his kickboxing expertise, so we expect a Pereira knockout to fuel the Adesanya rematch narrative.
Our pick – Pereira by KO/TKO
Frankie Edgar vs Marlon Vera
Fan favourite UFC veteran Frankie 'The Answer' Edgar (24-9-1) makes his return after a shock 30 second KO loss to Cory Sandhagen last February. Frankie takes no step down in competition as he takes on absolute assassin and division dark horse, Marlon 'Chito' Vera (17-7-1). This is Vera's chance to prove himself amongst the top of the division, as although Edgar is at the tail end of his career, he still only has losses to the very top contenders, ever since the beginning.
'Chito's' last proper loss was to José Aldo via UD, before that, he lost a (robbery) decision to Yadong Song, snapping his five fight winning streak. Vera is a killer at bantamweight, and with Frankie being 40 years old coming off of a stiff knockout loss, we believe 'Chito' has what it takes to claim the W.
Our pick – Vera by UD
Shane Burgos vs Billy Quarantillo
This fight has every right to be a banger. 'Hurricane' Shane Burgos (13-3-0) is an absolute warrior and always brings the heat, and Billy Quarantillo (16-3-0) isn't so bad either. Burgos, with less fights overall, has been fighting at a higher level than Quarantillo, with wins over the likes of Cub Swanson and Makwan Amirkhani. 'Hurricane' Shane has recently come up short against top contenders Edson Barboza and Josh Emmett, which is nothing to be ashamed of.
Quarantillo has been on a steady uptrend, but we believe Shane has what it takes to claim either a TKO or a UD victory. This is granted he has recovered properly from the Barboza loss, which, bare in mind, was still a competitive fight to a degree.
Our pick – Burgos by TKO/UD
Justin Gaethje vs Michael Chandler
This is the fight everybody wanted, and it's sure to deliver. Justin 'The highlight' Gaethje (22-3-0) and 'Iron' Michael Chandler (22-6-0) are both spectacular knockout artists. On paper, It would be easy to assume that Chandler would have the advantage with his explosiveness against a more stationary Gaethje. We don't think this will be the case.
Chandler's fighting stance assumes a wide legged pose, in order to control the ring and spring forward with power or double legs when necessary. Gaethje's primary weapon is his tenderizing leg kicks, and he preys on opponents with wide stances. We believe Gaethje will chop at the legs of Chandler, forcing him to slow, where Gaethje will apply pressure and secure a TKO win.
Our pick – Gaethje by TKO
Weili Zhang vs Rose Namajunas
Weili 'Magnum' Zhang (21-2-0) and 'Thug' Rose Namajunas (14-4-0) return for their immediate rematch after a shocking round 1 head kick KO by Namajunas in their first fight.
Namajunas executed a game plan perfectly, capitalizing on a lazy technique Zhang was trying to employ which was taught to her by Seanchaí. We fret that Zhang won't make the same mistake in the rematch. As shown by her fight with Joanna Jedrzejczyk, Zhang can apply the pressure and has five round cardio at the highest output, so Namajunas won't be able to outpace her.
Rose will do well with her selective striking, picking apart Zhang on the feet. Most people believe Zhang's fight with Joanna was a walkover, but it was competitive, and we think that although she has the grit and the cardio, Zhang's striking just isn't as good as Namajunas.
We see a Rose vs Andrade 2 style UD win for Rose.
Our pick – Rose by UD
Kamaru Usman vs Colby Covington
The fateful rematch is finally here. Colby 'Chaos' Covington (18-2-0) is the biggest rival of current welterweight champion Kamaru 'The Nigerian Nightmare' Usman (19-1-0), and came the closest to taking the belt in their first match.
Colby and Usman are practically a mirror image of one another. These are pressure heavy, volume striking, cardio machines with a similar win/loss ratio and resumé. In their first fight, Covington came close to gold, potentially going 2-2 into the round where he lost via TKO. Covington's striking was clearly better than Usman's in that match, and their cardio was equal.
Since then, however, Usman has fought thrice, and Covington once. Usman has partnered with world class coach, Trevor Whitman, and his striking has improved by leaps and bounds.
It's for this reason that we believe Usman will win this fight, either by KO/TKO, or by UD. Usman's inadequate striking is no longer a flaw in his game, and he has become a truly well rounded mixed martial artist. Don't get us wrong though, this should be a competitive fight.
Our pick – Usman by TKO/UD
Agree with our picks? Feel free to discuss… or debate in the comments below!
Mathew is a UK based combat sports writer. His work can be found in MMAKnockout and Heavy on UFC. Contact Mat via [email protected]