I stayed up for the UFC 270 main event last time, and in the UK this means sitting in bed fighting off sleep until 6am. It was ridiculous and I felt hungover for the next few days. Waking up at 2pm and getting a sort of remorse for having wasted my Sunday wasn't very nice, so I probably won't stay up for this event. I could try setting an alarm but there's a fat chance I'll be arsed to sit up and watch the fights after having a good snooze.
Anyhow, if the UFC 271 early prelims and prelims weren't stacked enough, the main card is absolutely stacked. I have some interesting predictions to make, some risky, some not, but alas, let's go!
See also:
Bobby Green vs Nasrat Haqparast
We've seen a rejuvenated Bobby Green recently, he's been able to string wins together against some top opposition. Green most recently derailed Al Iaquinta's long awaited return, and before that, lost a competitive decision to now top contender Rafael Fiziev. Green's striking is very satisfying, and he's one of few fighters to properly implement the shoulder roll into MMA. He's one of those veteran fighters that rarely makes mistakes and will always be a hard fight.
Nasrat Haqparast has been on the horizon for a while now, and is looking to add a feather to his cap this weekend with a win over the crafty UFC veteran. Haqparast has some legitimate knockout power, with most of his victories coming by knockout. He's hit a bump on his journey recently in the form of Dan Hooker, who grappled Haqparast to a UD. This is the flaw I see Bobby Green exploiting in the fight.
Haqparast will always have the knockout punch in this fight, but Bobby is a weathered veteran. I think it plays out like this: Green and Haqparast will stand and trade, as is natural since Green is primarily a striker. The veteran will at some point exploit the grappling weakness that Hooker exposed. Green himself is a very competent grappler, as demonstrated by his hard fought victories over Lando Vannata and Clay Guida. He also stood toe to toe with Rafael Fiziev, and you don't get many strikers as good as Fiziev in the UFC.
I think Bobby will grapple Haqparast to a decision victory. Both fighters stand a chance on the feet, with Haqparast having good counter striking and leg kicks, but I think Green holds an edge in most facets of the fight.
My pick – Green by UD
Kyler Phillips vs Marcelo Rojo
Both fighters here are looking to recover from losses. Kyler Phillips last lost a majority decision to Raulian Paiva, and Marcelo Rojo was TKO'd by Charles Jourdain. Those are two high calibre losses and are nothing to be ashamed about. Phillips still has the momentum from derailing the Song Yadong hype train (although I think Yadong lost that fight with Marlon Vera), whilst Rojo doesn't have any tier victories.
I think the difference here is the fact Kyler Phillips has better experience at a higher level than Rojo. I expect him to impose this in the fight. Another aspect of the fight is grappling, Rojo has been submitted plenty of times in his career, and Kyler is a brown belt under Gracie BJJ, which is extremely high tier. Kyler has over grappling accolades I haven't mentioned, but in short he's a very well esteemed grappler. I see Kyler either taking the fight by UD, or SUB.
My pick – Kyler Phillips by Submission
Jared Cannonier vs Derek Brunson
Blond Derek Brunson is fighting for a spot as the next title challenger in this matchup. Brunson has been on an insane streak as of late, and continues to upset the oddsmakers as he goes along. I had confidence in Brunson going into the Shahbazyan and Till fights, his wrestling is a great equaliser. It will be a great equaliser in this fight too.
Jared Cannonier is back in the win column, after a very sloppy decision victory over Kelvin Gastelum last August. I credit Cannonier in the fact he almost knocked the iron-chinned Kelvin out in that fight, but it really was a lose/lose situation in the general scheme of things.
Jared expectedly has a great equaliser in his raw power. I'm sure we'll hear a lot about how he used to be a former heavyweight/LHW come this weekend, like is the norm for Cannonier fights. That said, slimming down his frame like that has helped him retain some of that power, and he has knockout potential in all four limbs.
This doesn't mean Derek is out of his depth on the feet. Brunson has faced some spectacular strikers in his time, even untested fighters like Shahbazyan were expected to dominate Brunson with the striking, and it didn't work out too well. Brunson has some of the best ground and pound in the division, and you can really tell he believes in his championship ability. This is a three round fight so I'd expect Brunson to go hard on the wrestling and GnP, in an effort to tire Jared out and hopefully secure a TKO or SUB from the ground.
My pick – Brunson by UD
Derrick Lewis vs Tai Tuivasa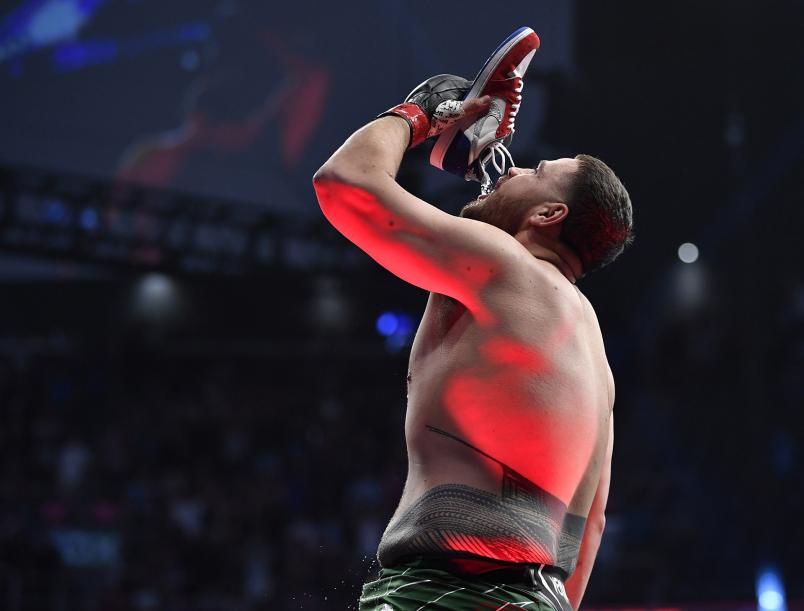 This fight is a coinflip for obvious reasons, these guys have a combined 33 knockouts between them. Derrick Lewis is on a quick turnaround from his great victory last December over Chris Daukaus. Tai Tuivasa fought a few days earlier than Lewis last December, so it's a considerably fast matchup to have been made.
I think that a lot of people are counting out Tuivasa in this matchup because of Lewis' star power. Let's not forget that Tuivasa has exceptionally good leg kicks, which are a crux for Derrick Lewis. Lewis stands with his legs splayed, and he often oversteps into an opponents guard, shifting his bodyweight onto his lead leg for the power shots. This style is quite easily punished with heavy leg kicks, and like I said, Tuivasa is quite good at that.
Also let's not deny the fact that Tuivasa has fought some top opposition, from JDS before he fully declined, to knocking out Stefan Struve, and also Augusto Sakai. I'm going to go with the risky underdog pick and choose Tuivasa in this matchup. Method: chopping down Lewis' legs and securing the finish.
My pick – Tuivasa by KO
Israel Adesanya vs Robert Whittaker
I'm struggling to see how Whittaker can take the belt from Izzy. A lot of people seem to be looking at the Blachowicz fight and taking the 'just take him down' stance, which Whittaker acknowledges. It's nice to see a level of self awareness and level headedness from Whittaker coming into this fight, where it wasn't present in their previous encounter.
Whittaker has fought tooth and nail to get this rematch, and has dispatched multiple top contenders on his way back. He's a striker first and foremost, and is very efficient with combinations. A classic Whittaker combo is to throw the head kick at the end of a combination. It's going to be extremely difficult to pull off any striking game plan against a fighter like Adesanya, who is a well esteemed, world-class kickboxer, and that is the reality of the fight.
It's hard for a karate pressure fighter to impose their will on a taller counter striker who is also probably the best kickboxer in the UFC, and has incredible takedown defence. If Whittaker can pull off, colour me impressed. I'd like Whittaker to win, but I just can't see a way he can dethrone Izzy at this point. I forecast a retelling of their first fight, Izzy just has his number.
I'd also like to point out Robert's susceptibility to leg and calf kicks, which was exposed by Cannonier in their fight. This is something Adesanya has been improving upon in every fight, he lit up Romero's legs, and he chopped down Costa before finishing him with strikes. I fully expect Adesanya to attack the legs of Whittaker. Whittaker might have been using more of a grappling game plan against his latest opponents, but they don't have the level of takedown defence, or length of Adesanya.
My pick – Izzy by KO/TKO
Join the Fight Fanatic newsletter!
Thank you for reading, feel free to comment below!
Mathew is a UK based combat sports writer. His work can be found in MMAKnockout and Heavy on UFC. Contact Mat via [email protected]