The UFC 271 prelims have a lot of name value! Four fights is modest, but we had a huge 6 fight early prelims (which I will be enjoying come Saturday). Andrei Arlovski makes another appearance, which is amazing. Lets get into it!
See also:
UFC 271 Main Card Predictions
UFC 271 Prelim Predictions
UFC 271 Early Prelim Predictions
William Knight vs Maxim Grishin
One look at William Knight and you'd think he's a classic swang and bang fighter, but he's so much more. Knight is an absolute unit, fighting at light heavyweight (93kg) and standing at 5'10, so he probably comes in on fight night at 100+kg. He's built like a tank and has the knockouts on his record bolster that statement. Knight has shown weirdly good cardio for a man his size, and decent technique too. His last fight against Menifield was sloppy, but I think that came down to the fact that both men knew whoever swung first would get knocked out.
Knight showed really impressive cardio and composure in the two decision victories on his record, he really is a legitimate martial artist hiding beneath the façade of a brute.
Maxim Grishin is having mixed results in the UFC since coming in on short notice against Marcin Tybura back in 2020. Grishin, like Knight, has plenty of knockouts to his name, but his frame is much more suited to the weight class. Grishin is a full 6'3 but hasn't been able to impose his size or skills on many of his opponents on the world stage.
I expect Knight to storm Grishin and overpower him with wild strikes and relentless wrestling. Grishin might be longer but I doubt Knight gives him the breathing space to try and impose his will. Knight is the more proven fighter, and even though he is five inches shorter, I see him easily overpowering Grishin.
My pick – Knight by KO/TKO
Alex Perez vs Matt Schnell
This fight has been rescheduled a bunch now, lets just hope it isn't cancelled before this weekend. It'd be the new Khabib vs Ferguson.
It's criminal that top 10 ranked flyweights are fighting in the middle of the prelims. Regardless, Alex Perez is an impressive, well-rounded fighter and has only lost to the very best in the UFC. He looked incredible against Formiga.
Matt Schnell on the other hand has had a less successful run in the UFC, and has lost to some opposition that Perez would certainly dispatch. I know MMA math doesn't work, but I think Perez takes this one, he's a solid top 5 flyweight.
My pick – Perez by UD
Roxanne Modafferi vs Casey O'Neil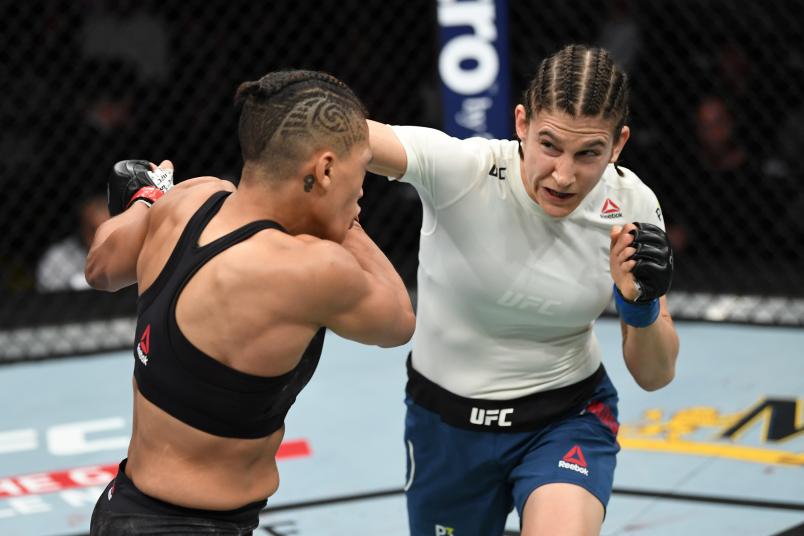 Fan favourite WMMA veteran Roxanne Modafferi makes probably her last appearance in professional MMA against the highly touted UFC newcomer, Casey O'Neil. Modafferi is a good test for O'Neil, because whilst she's not the best in any given area, she has a shitload of experience. O'Neil is undefeated so far, and is still very young at 24, so there's a lot of time for her to develop. Modafferi on the other hand is 39 years old and on the verge of retirement.
I'd call this a gimme fight for O'Neil, but I don't think it's that simple. Modafferi has a habit of causing upsets, like her victories over Andrea Lee, Maycee Barber and Antonina Shevchenko. She has a habit of breaking losing streaks by beating some undefeated WMMA prospect.
O'Neil didn't look so fresh against Antonina Shevchenko, but she sort of washed over her with superior pressure and cardio. She wound up beating Antonina on the floor with good GnP, but I don't think this would work against the solid ground fundamentals of Roxanne.
Where O'Neil takes this fight is on the feet (I hope I'm right), with her solid jab. With Roxanne's age and cardio, it might then open the possibility to take it to the ground. But don't be deceived by appearances, Roxanne is super durable and has the grit required to grind out a dirty UD. With this possibility in mind, I still take O'Neil by UD.
My pick – Casey O'Neil by UD
Andrei Arlovski vs Jared Vandeera
It's 2022, and a 43 year old Andrei Arlovski is 4-1 in the UFC since 2020. It's always a tough one to pick with Arlovski, I always think he has the fight experience needed to halt the new dogs, but he seems like a coinflip fighter nowadays. Arlovski hasn't finished an opponent since 2015, but he has crazy durability for a heavyweight fighter, only being finished twice in his last 5 losses, and by some of the top guys at heavyweight. I think it stands that Arlovski has been the HW gatekeeper right beneath Overeem for a while, but now is the time to take the mantle as the true HW gatekeeper, and it begins with Jared Vandeera.
Vandeera isn't so impressive on paper, with a modest record of 12-6, with some of those losses coming to subpar opponents. He does truly have that knockout power that could cause trouble for Arlovski, but the veteran Arlovski will probably neutralise this with solid grappling and range management.
Vandeera is a kill or be killed fighter with 2/3 of his losses coming by finish, so he could be susceptible to a KO/TKO from old-man Arlovski. I'm leaning towards a tentative decision win for Arlovski, but I'd like to risk it and say this will be Arlovski's first finish since 2015.
My pick – Arlovski by KO/TKO
Join the Fight Fanatic newsletter!
Thank you for reading, feel free to comment below!
Mathew is a UK based combat sports writer. His work can be found in MMAKnockout and Heavy on UFC. Contact Mat via [email protected]