After the dismal night of decisions I witnessed the other week on the Miesha Tate vs Ketlen Viera card, It's great to see a card full of guaranteed bangers like the one this Saturday where Rob Font and José Aldo finally square off. There's numerous matchups to be excited for, so join me as I break down the main card and make my predictions! See if you can get more correct than me. Comment your opinion below, I'd love to hear it!
Before we begin, here are my predictions for the entire night, I'll be placing £5 on these picks as a parlay with the hope to become a thousandiare.
Alex Morono vs Mickey Gall
I think Mickey Gall is better than a lot of people give him credit for; Gall has astounding grappling and a decent stand-up game. What gall actually lacks is fight experience, and his weird favouritism by the UFC is questionable (he keeps getting spots on main cards for basically no reason). Morono has legit wins over good name opponents like Donald Cerrone and Max Griffin, and has had competitive fights with other top names. Gall showed great composure in his last outing with Jordan Wright, almost knocking his opponent out before mauling him on the ground. I'm going to go out on a limb and take a risky pick here and say that Gall holds his own on the feet vs Morono, with his length, and dominates if it goes to the ground.
My pick – Gall by UD
Brendan Allen vs Chris Curtis
I picked Phil Hawes to win against Chris Curtis not long back. Hawes was winning handily before being clobbered by Curtis in spectacular fashion and my parlay went out the window. Curtis has real dynamite in his hands, but obviously lacks polish. If Phil Hawes can piece him up on the feet, then I think an established fighter like Allen will beat him soundly. Allen has proven his ability to withstand great power shots, and stand in the line of fire, like in his fight with Punahele Soriano last July. In my opinion, the puncher's chance won't be there for Curtis this time around.
My pick – Allen by UD
Clay Guida vs Leonardo Santos
Guida is still going! This isn't an easy fight to predict, Guida has massive experience advantage, but he has a lot of losses and is probably on his way out. Santos on the other hand, has been around in the UFC for a while and holds only one loss in the promotion to Grant Dawson, who isn't a pushover. Santos holds good wins over fighters like Kevin Lee (before he went on his losing streak), Adriano Martins, Anthony Rocco Martin and Steven ray. Santos also has a massive five inch height advantage, which should help nullify Guida's forward pressure style, as well as bolstering his submission game on the ground.
My pick – Santos by UD
[the_ad id="1124″]
Jimmy Crute vs Jamahal Hill
I'm not seeing a lot of talk for this fight, it's certified brilliant matchmaking. Crute is coming back from his shock loss to Anthony Smith, where he suffered a TKO via leg injury. Hill is also coming off of a TKO injury loss to Paul Craig, suffering a dislocated arm when he was caught in a submission. TKO injury losses aren't the only thing that these two have in common, both fighters have spectacular heart and go out on their shield. Hill has a two inch height advantage, and presumably the reach advantage too. To make up for this Crute is stocky, and is much larger built than Hill. I don't see Hill, being the taller but thinner man, being able to control Crute. Crute is the stronger fighter in this matchup, and has only been soundly beaten once in his career (not discrediting the Smith fight!), he also holds a win over Paul Craig, the man who broke Hills arm in his last fight.
My pick – Jimmy Crute by KO/TKO
Brad Riddell vs Rafael Fiziev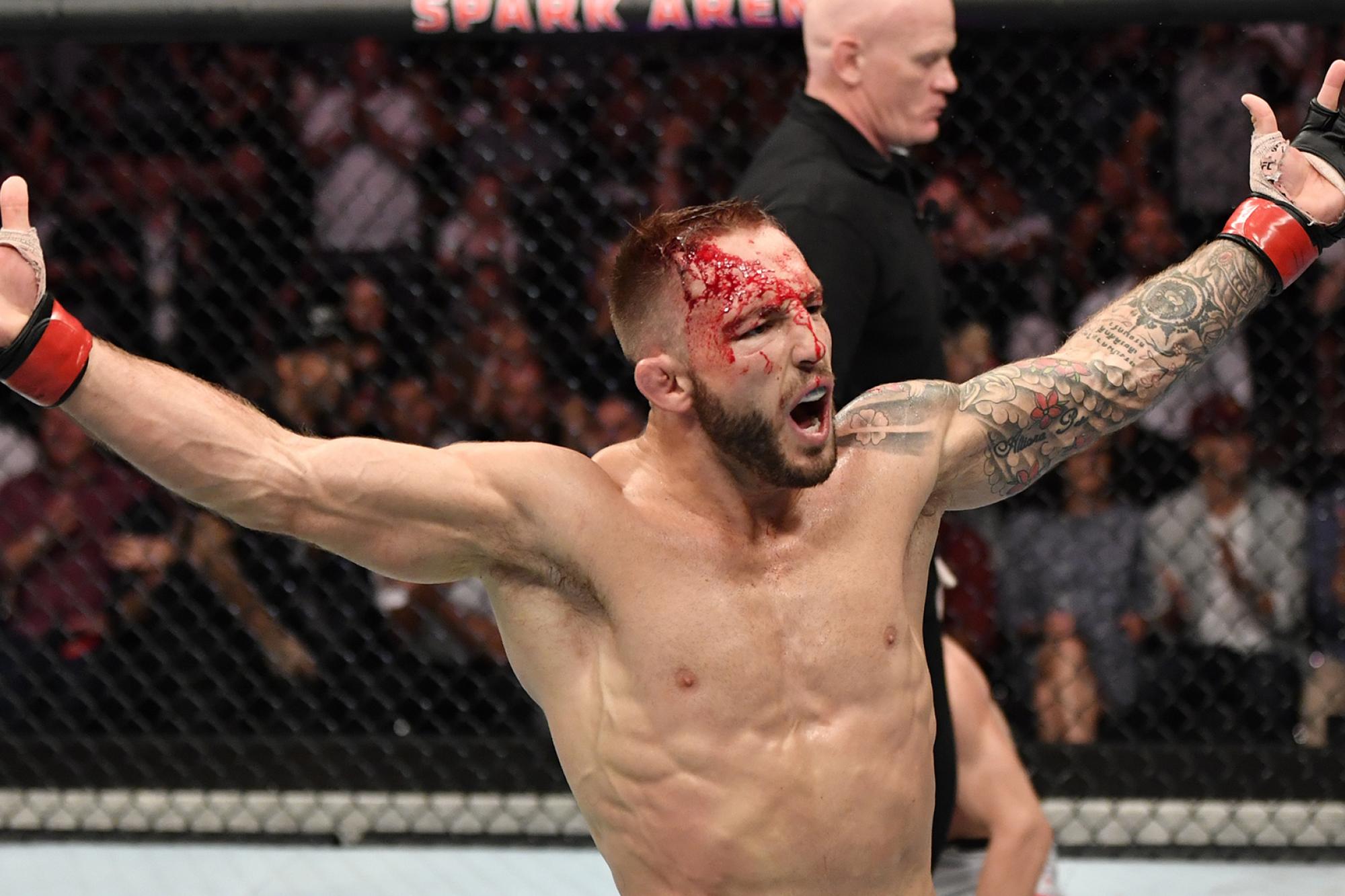 This has fight of the night written all over it. Brad Riddell is one of my favourite fighters in the UFC right now, Fiziev is up there too. This is as close to a mirror match as you can get, both men stand at 5'8, they each have records of 10-1, both have world class striking. Controversially I think Riddell may have the striking advantage, as he fought some legendary names in his kickboxing career. Riddell holds wins over John Wayne Parr (!!!) and Yi Long, and has fought the likes of Regian Eersel and Cédric Doumbé to decisions. Fiziev has equally had a great career in Thai Boxing, but I think Riddell takes the edge here. Where Riddell truly holds the advantage is his wrestling, if Fiziev proves to have the advantage on the feet, I see Riddell nullifying it with effective grappling and making the fight an ugly grind.
My pick – Riddell by UD
[the_ad id="1124″]
Rob Font vs José Aldo
"Aldo hasn't faced a jab liked mine", Rob Font claims. José Also has fought nothing but the who's who of MMA for about a decade now, and he's beaten most of them. Don't let Aldo's decline change your judgement, he's a game opponent, and since winning and losing his championship, has remained in the top 5 consistently ever since. Rob Font is returning from a shock victory over a talented, but rudimentary Cody Garbrandt, and a knockout win over a fading Marlon Moraes. I don't see Font winning this fight, because he plays Aldo's game. Font is a stand-up fighter who prioritises boxing, Aldo is also a stand-up fighter who not only has fantastic boxing  (and crushing body shots), but he mixes it up with some of the most devastating leg kicks you'll ever see. I see Aldo playing with his food in this matchup, It won't be as competitive as people think.
My pick – Aldo by KO/TKO
Do you agree with my picks? Feel free to comment below and we can chat!
Mathew is a UK based combat sports writer. His work can be found in MMAKnockout and Heavy on UFC. Contact Mat via [email protected]