Jack "The Joker" Hermansson vs Sean "Tarzan" Strickland, otherwise known as the psycho, as most of the MMA community affectionately calls him. It's not a fight I really care for this time round, but it's interesting to see the MMA community rally against a fighter like Strickland. He has Jon Jones' aura of sociopathy except he's more opaquely edgy than a 14 year old boy trying to sound badass to his classmates. Saying you want to kill somebody in the ring as endearing, we know you don't mean it and we know you couldn't handle it if it even happened.
There's shitloads of videos and documented evidence of fighters like Colby and Sean acting like regular people and being likeable. Why the general community buys into the blatantly exaggerated fight personas I'll never know. Either way, It's interesting when the 'heels' of MMA are thrown into the mix, I enjoy the animosity a fighter like Strickland can instigate.
Anyhow, lets get into my predictions for UFC Fight Night: Hermansson vs Strickland – Main Card
Also see: My predictions for the Prelims
UFC Fight Night – Hermansson vs Strickland Main Card Predictions
Julian Erosa vs Steven Peterson
Steven Peterson is most well known for putting on a striking masterclass against Chase Hooper last June. I'm joking, Peterson beat Hooper via. unanimous decision in a pretty lacklustre fight. Chase Hooper is known for being quite a legitimate threat on the ground, but he has absolutely floundering striking skills and posed zero offensive abilities versus Peterson in their fight.
Peterson's new opponent, Julian Erosa, is nothing like Chase Hooper. Erosa is a finisher through and through, with an 88% finish rate in his 26 victories. If Peterson stood toe to toe with Hooper and couldn't put him away, then Rosa is a whole different ballgame. I see this as a gimme fight for Erosa, it's been put as the first fight on the main card because Erosa should in theory run right through Peterson and provide the crowd with a good finish to start the card.
My pick – Erosa by KO/TKO
Tresean Gore vs Bryan Battle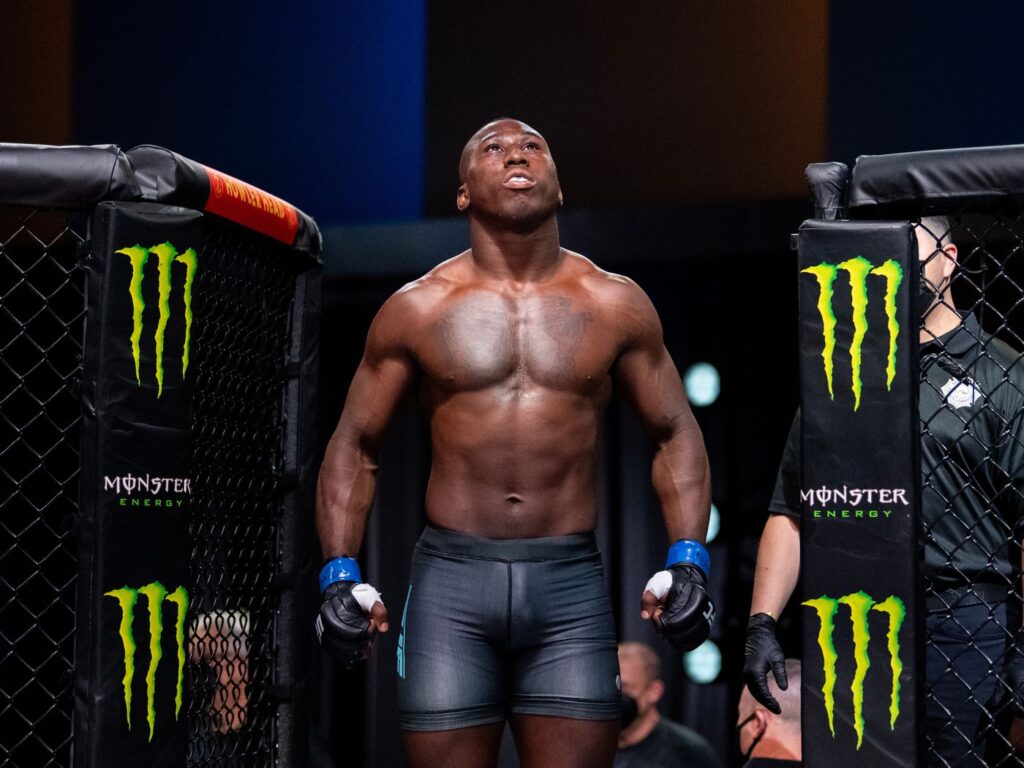 This is the TUF finalist fight that should have happened on the Barboza vs Chikadze undercard last year, if not for Tresean Gore dropping out. The latest season of TUF was full of really mediocre fights, and I wasn't impressed by anybody other than Ricky Turcios. This includes Bryan Battle and Tresean Gore, unless these men have made drastic improvements since their last appearances, I don't anticipate a very good fight, but I hope I'm wrong.
I can't gauge how good Gore is based on his TUF appearances. He had good persistence, decent cardio, and modest skills, but his opponents were very poor. Battle on the other hand seemed to be one of the better competitors on the show, he will have the longer kicks and probably the better grappling in this matchup, he's also made his UFC debut so there's that.
My pick – Battle by Submission
Sam Alvey vs Brendan Allen
Here we have Brendan Allen looking for a fast recovery from his shock knockout loss to Chris Curtis last December. On paper this should be an easy fight for Allen as Sam Alvey is super washed. If Alvey loses this fight, he'll tie BJ Penn for the longest active losing streak in the UFC, which he wholly deserves for his anti-union sentiment and that fake nice guy persona. 'Smilin' Scab Alvey.
If Alvey wins this fight it'll be one of the biggest upsets this year, I'm going with Allen, I'm 98% sure of it.
My pick – Allen by UD
Shavkat Rakhmonov vs Carlston Harris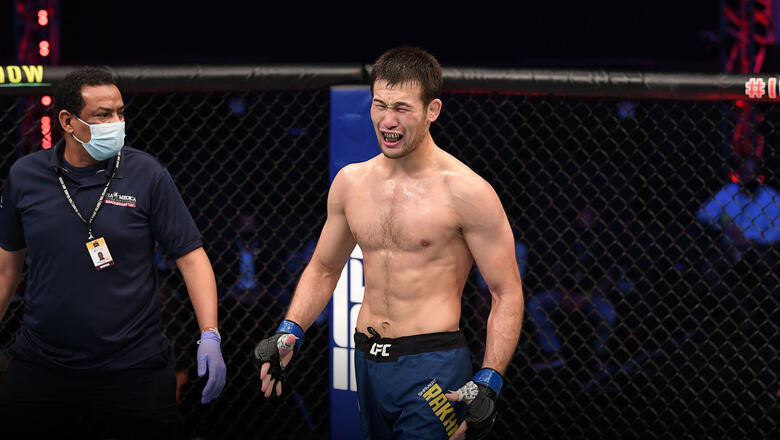 Shavkat Rakhmonov brings the fight every time, he's a fast ascending, undefeated, brutal fighter with 100% finishes in his 14 victories. Rakhmonov has proved his place in the UFC with finishes over Alex Oliveira and Michel Prazeres, in bouts where he had literally no resistance.
Carlston Harris is riding a 5 fight win streak into this matchup, and most recently finished Impa Kasanganay, which is quite impressive. Whether the post spinning-kick knockout Kasanganay is the same fighter he was, remains the question. Regardless, this matchup makes sense and it's chance for both men to prove themselves.
Rakhmonov has brutal striking and unforgiving grappling, he exhibited this against Oliveira and I think this cold-blooded finishing ability spells trouble for Harris in this fight. You can't deny that Rakhmonov has fought the tougher opposition and cut through them like a hot knife through butter, he's meant for greater things, and it starts with Carlston Harris.
My pick – Rakhmonov by finish
Punahele Soriano vs Nick Maximov
It's the co main event! This is an example of how styles make fights. I think there's a few candidates for co-main position on this card that deserve it more than these two men, but regardless of the fact, this fight should be a banger.
I watched Punahele Soriano versus Brendan Allen, in a fight he lost by UD. Soriano throws bombs, with reckless abandon, he also has a granite chin. His stock went up with that loss because he took Allen to a competitive decision, and I rate Allen quite highly despite his setbacks.
Soriano fights Nick Maximov, a durable fighter with a more well rounded record than Soriano, with a roughly 1/3 split between KO/TKOs, Submissions and decisions. I think Maximov will hold the advantage on the ground versus Soriano, but It's hard to out-grit the Hawaiian native. Without a doubt Soriano will come out swinging for a knockout, I don't think Maximov will meet this power with his own, instead looking to grapple. If Soriano can deny the grappling, which should be in his gameplan as a brawler, I can see him taking the dub.
My pick – Soriano by UD
Jack Hermansson vs Sean Strickland
I think this fight breaks down into one of two things: Hermansson controlling Sean on the ground, or Strickland pressuring Hermansson on the feet over 25 minutes.
Jack Hermansson is a very legitimate submission threat on the ground, which should be gravely avoided by Strickland in this fight. An imposing figure, Hermansson isn't afraid to stand and trade, but it was his downfall versus fighters like Jared Cannonier and Thiago Santos. He was scrappy and took Vettori to a decision, which is impressive since Vettori hits hard and has very good wrestling. Whether these aspects can transfer to this fight with Strickland, we're yet to find out.
Sean Strickland stands about as tall as Hermansson, but stylistically he's more like a Diaz brother. By this, I mean he has slow strikes, but with incredible volume, he out-paces and out-works his opponents, exhausting them and dragging them into deep waters. It looks sloppy but it's really quite effective, death by a thousand cuts as opposed to one fell swoop. But don't be deceived, Strickland has finishing power, and when he smells blood he goes after it.
It's up to Hermansson to acknowledge the probable cardio advantage that Strickland holds in this fight. If he's wise, he'll have covered some of the holes in his game that were exposed in the fight with Vettori. I think he has all the tools to win this fight, it's just all about not letting Strickland find that fighting flow.
My pick – Hermansson by UD
If you're interested in joining the Fight Fanatic forums, consider becoming a member.
Join the Fight Fanatic newsletter!
Thank you for reading, feel free to comment below!
Mathew is a UK based combat sports writer. His work can be found in MMAKnockout and Heavy on UFC. Contact Mat via [email protected]