UFC Fight Night: Makhachev vs Green might be hard to look forward to since Beneil Dariush had to drop out. However, don't let this distract you from the fact that there are still plenty of fights to anticipate, including some that -on paper- should be absolute barn burners. Please read on to see my picks for the UFC Fight Night Makhachev vs Green Prelims.
Contents:
Victor Altamirano vs Carlos Hernandez Prediction
Victor Altamirano is a relatively lanky flyweight, standing 5'6. He's primarily a stand-up striker, working out of the southpaw position with a lengthy jab. He likes to end his combos with uppercuts and knees as his overreaching style encourages takedowns. Although Altamirano tends to work on the feet, he only as 1 KO/TKO win, and 4 Submission wins. Altamirano's glaring flaw is his low hands and plodding movement. When he does decide to put the work on his opponents he hits hard and efficiently, but I can't help but think he's going to get cracked at one point or another. Is Carlos Hernandez the opponent to do this?
This is unlikely as Hernandez doesn't have a KO/TKO victory to his name. In addition to this, he stands a full inch shorter, and is considerably stockier than Altamirano. I think Hernandez will have trouble with Altamirano's style and length, he will also be at an innate disadvantage as an orthodox fighter facing a southpaw fighter. This means he is open to Altamirano's power side body kick and cross, and since Altamirano likes to pump out the jab, it's likely he'll be walking Hernandez into that power side.
My pick – Altamirano by UD
Ramiz Brahimaj vs Michael Gillmore Prediction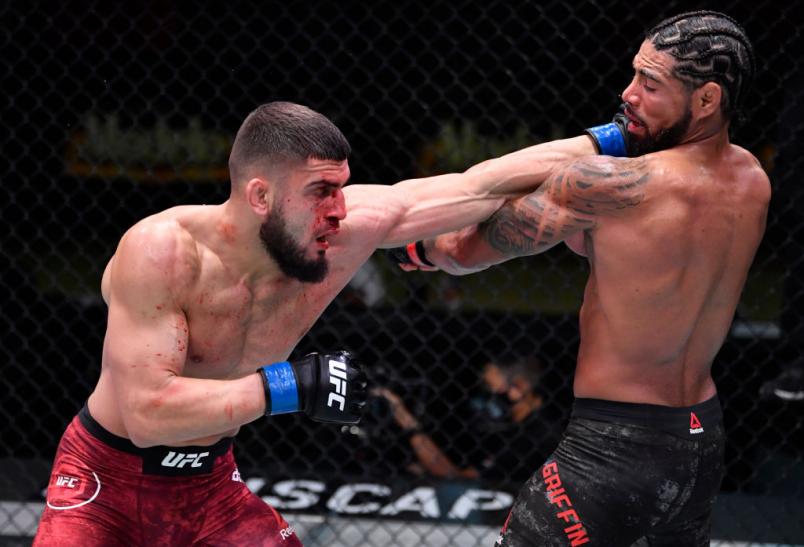 In my opinion this is a mismatch and a gimme fight for Ramiz Brahimaj. Brahimaj has had a run of bad luck in the UFC, but he's only lost to the tried and tested veterans of the UFC, mostly due to his rookie mistakes. He was highly competitive with Max Griffin (who is an absolute killer), and lost via Doctor's stoppage when his ear was basically falling off. And since that fight, Brahimaj won one by submission, and got mauled by a rejuvenated Court McGee. By all rights he had the ability to beat McGee, but his hubris and cardio management cost him all chances he had. He's a promising fighter and I expect him to run over Michael Gillmore in this fight.
Gillmore had a bad UFC debut against TUF alumni Andre Petroski, losing by ground and pound in the third. Gillmore isn't especially effective in any one area, and he isn't the most active fighter. His good shot selection sometimes scores him some significant strikes, but he never seems to capitalise on the success. This low pace may hinder him greatly against Brahimaj, who has experience against much better opponents.
My pick – Brahimaj by UD
Alejandro Perez vs Jonathan Martinez Prediction
A nice fight between two well established UFC fighters. Alejandro Perez has fantastic head movement, and opts to sway side to side to keep his head off the center line. Perez likes to walk his opponents backwards and meet their shots with counters he initiates with effective head slips. It's hard to pin Perez against the fence as he likes to duck and slip before rotating out and making more distance. His striking is lethal, with almost half of his 22 victories coming by knockout, watch out for Perez throwing slick counter hooks whilst being attacked.
Jonathan Martinez is an incredibly calculated southpaw who likes to bait his opponents with feints. Martinez uses straight punches exceptionally well, especially his right side jab. You'll probably notice Martinez twisting his rear leg in this fight to draw a reaction out of Perez, before committing to the kick later in the fight. A lot of Martinez' success seems to come from denying his opponents the front foot and walking them down. As discussed, Perez tends to lead his opponents backwards looking for counter shots, so he may not bite on Martinez' feints as much as other opponents.
If Martinez can maintain that trade mark composure, I can see him doing well in this fight. But having to instigate the action and falling into Perez' game plan of bait and counter, it could well go wrong. This is why I have Perez winning by either KO/TKO or UD.
My pick – Perez by KO/TKO
Terrance McKinney vs Fares Ziam Prediction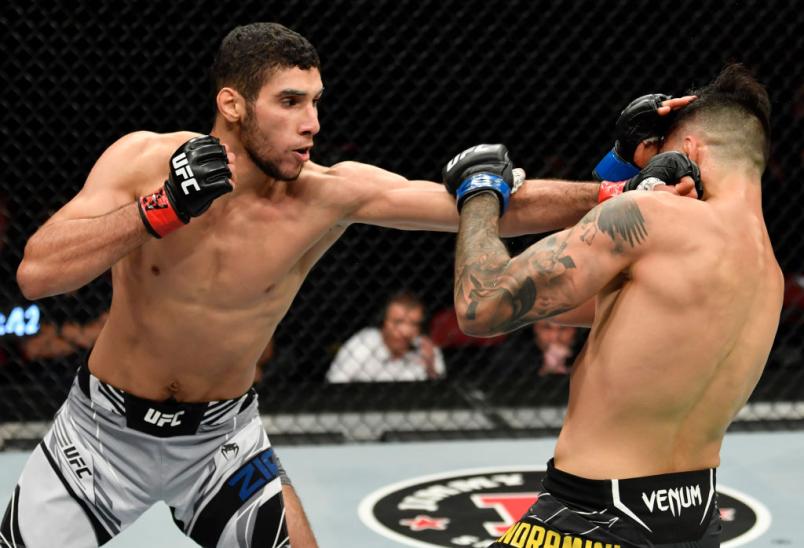 Terrance McKinney is an extremely exciting fighter, with 100% KO/TKO finishes in 11 wins, all but one coming in the first round. McKinney is riding the wave of his UFC debut where he knocked out Matt Frevola in the opening 7 seconds of the first round. You can't have a better debut than that, and I just hope he can carry the momentum into this fight. Whilst primarily a striker, McKinney has good wrestling, and a majority of his finishes actually come by submission. He stands with a wide stance, knees bent, and he's very reactionary, sitting down on his shots and looking for that one shot KO.
Fares Ziam is a decent step up in competition. A very well rounded fighter, Ziam is fairly bouncy and aggressive, with a wide guard. He moves quickly on the feet to make distance for long strikes, and he likes to try and catch his opponents coming in or disengaging for exchanges. Like I mentioned, Ziam has a wide guard, and it leaves his face open to fast, straight shots. The speed of McKinney was astonishing in that UFC debut so Ziam needs to be aware of straight shots coming down the middle of his guard. In addition to this, he shows some vulnerability to stronger grapplers (shown in his bout with Jamie Mullarkey), and McKinney isn't a one trick pony, he can, and will take down and submit an opponent. I wouldn't be surprised if McKinney finishes Ziam in this fight.
My pick – McKinney by finish
Josiane Nunes vs Ramona Pascual Prediction
This is a fight that should be on everyone's agenda. As I spoke about in my other article 'Fights to Watch: Makhachev vs Green', both of these women are knockout machines! Whilst sloppy and incredibly undersized, Josiane Nunes has a great killer instinct, and a complete disregard for her opponent's wellbeing. She has good boxing and great shot selection. Nunes is going to be 4 inches shorter than Ramona Pascual in this fight, but even an 8 inch height difference didn't stop her in her last fight.
Ramona Pascual makes history as the first female fighter from Hong Kong to fight in the UFC. I'm going out on a limb here and saying that Pascual is an underdog in this fight, but I think she has a great chance of winning, hear me out. Pascual has fought in competitive Muay Thai before trying MMA. Before this, she played for Hong Kong's rugby team, and has also won gold in BJJ world championships. These accolades mean several things, that Pascual has good striking and conditioning, good takedowns, and good grappling. This is everything you need to be a successful mixed martial artist.
Nunes, whilst highly dangerous on the feet, will be woefully outsized by Pascual. She will have trouble reaching with her strikes against a longer fighter. Whenever she sits on a shot, she risks being taken down by a woman with years of rugby tackling under her belt. And if it goes to the floor, she's competing with a world gold medalist BJJ champion. Having KO ability is great, but being this one dimensional against someone like Pascual is a recipe for disaster.
Nunes looks un-knockoutable with that short neck, so I have Pascual by either UD or SUB.
My pick – Pascual by UD
Ignacio Bahamondes vs Zhu Rong Prediction
Ignacio Bahamondes and Zhu Rong headline the prelims with what should be a barnburner fight. Both men are finishers, with 25 finishes in their collective 29 victories. Zhu Rong is to be feared, as a fighter with solid defensive fundamentals and real venom behind his strikes. Rong tends to keep his right hand high to his face whilst his left acts as a measurer. This high right hand leaves him susceptible to body kicks, but he is effective at catching kicks and launching straight into his off balance opponent. He also has tremendous toughness, which he demonstrated when he escaped a tight guillotine from Rodrigo Vargas last April.
What Bahamondes brings to this fight is a relentless pace and flashy striking. I think his main detriment is the fact he gets hit a lot. This was glaringly obvious in his fight with Roosevelt Roberts. Although Bahamondes later secured one of the best knockouts of the year versus Roberts, he was getting tagged throughout the fight. Bahamondes was struggling with Roberts' straight punches, which is something that Rong does extremely well.
It's a hard fight to call, but I'm going to pick Zhu Rong by knockout.
My pick – Rong by KO/TKO
Feel free to comment below whether you agree or disagree with my picks! I'm more than glad to discuss this upcoming event!
Please view my other predictions and see how you compare!
Sign up to my newsletter to hear first when I upload my content!
Mathew is a UK based combat sports writer. His work can be found in MMAKnockout and Heavy on UFC. Contact Mat via [email protected]