UFC Fight Night: Kattar vs Chikadze is the first UFC event of 2022. This card and also UFC 270 next week have been plagued with dropouts, probably due to the malignant COVID variant doing the rounds at the moment.
Nevertheless, this card appears weak on paper, and may be weak in execution too, because at first glance I can only spot a handful of fights I'm excited to see. Regardless, these 'weak' UFC Fight Nights often defy expectation, so I'm looking forward to it.
Here are my predictions for UFC Fight Night: Kattar vs Chikadze. Like always, I'll be placing a £5 parlay bet on my picks.
Kattar vs Chikadze – Prelims
T.J Brown vs Charles Rosa
You can hate me but I like Charles Rosa. Rosa is fairly violent and brings the good fight, although he hasn't looked too impressive in his last few outings. I enjoyed his last fight with Damon Jackson, especially when he landed that slick over the top reverse elbow that had Damon leaking like a faucet.
Rosa, since joining the UFC, has had nothing but alternating wins and losses, seriously, check it out!
This obviously means that Rosa is due a win. No, but seriously, if you look at Rosa's record, he's lost to some pretty good names like Bryce Mitchell, Shane Burgos and of course, Damon Jackson. I don't think T.J's resumé is nearly as strong, since he's struggled in his UFC debut, losing two to Jordan Griffin and Danny Chavez, before winning a split decision against Kai Kamaka III, so it's not highly impressive.
Unless T.J comes with something to prove, I see Rosa grinding out an ugly decision victory. Rosa isn't very consistent, and he's a slow starter to boot, so I'm not 100% about this pick. Rosa is also a very dirty fighter, I recall him holding onto a kneebar and cranking it after the bell with Jackson, It's not out of the question that he pulls some antics in this fight.
My pick – Rosa by UD
Brian Kelleher vs Kevin Croom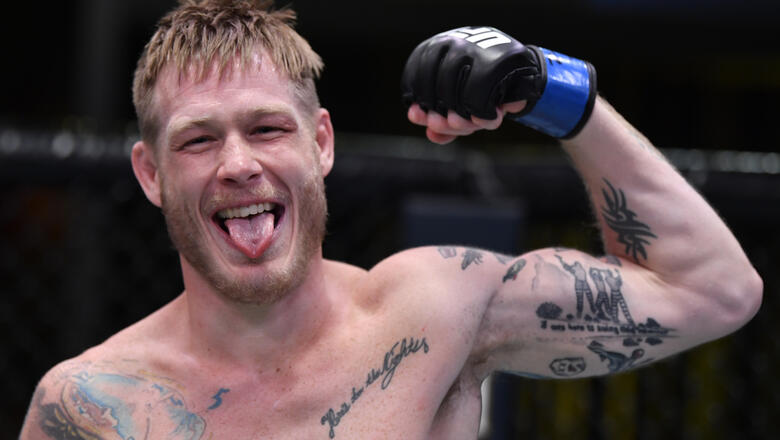 I have a sweet spot for Kevin Croom since watching his short notice UFC debut against Roosevelt Roberts, where he rocked and submitted Roberts in 31 seconds. I remember him saying something about having something like $13 in his bank, and the fight was make or break, so I'm glad he's found a spot as a company man for the UFC, filling in short notice positions.
This is a considerable step up in competition for Croom as Brian 'Boom' Kelleher has fought a lot of top guys, and has only lost to the best of the division, with names like Marlon Vera, Ricky Simon and Cody Stamann appearing on his record.
I'm hoping that Croom can make this fight more interesting, and even pull off an upset by turning it into an ugly brawl. I don't think Croom offers much for Kelleher, as Kelleher is pretty formidable everywhere the fight could go, and has a nasty guillotine choke.
My prediction – Brian Kelleher by Submission
Court McGee vs Ramiz Brahimaj
I don't understand the fanfare that Court McGee gets. Sure, he's a TUF winner, and a long time UFC veteran, but whenever I've seen the guy fight, he's been in some of the most slow, tiring fights I've ever seen. I don't get how MMA fans can bash Micky Gall, but rally behind guys like court McGee. I'm yawning as I'm writing this.
That said, I'm still a fan of anybody that puts it on the line to entertain us. Court has considerable toughness, stamina and persistence. He looked rejuvenated in his last matchup against an over the hill Claudio Silva, it really was exhausting to watch, but Silva is a legit submission threat and Court walked through him like a hot knife through butter.
Court's new opponent, Ramiz Brahimaj, has a 100% finish rate by submission, but I don't think he's on Court's level. McGee, to his credit, has only fought and lost to the best names in the UFC, he also most likely has the strength advantage, and definitely the experience advantage. I have Court winning an exhausting decision.
Jamie Pickett vs Joseph Holmes
This is a good fight that could be going under everyone's radar. Jamie Pickett is a violent knockout artist, who hasn't been able to gather momentum yet in the UFC due to bad matchups. In his last outing he was paired with Laureano Staropoli, who was keen on hugging Pickett to the final bell.
Pickett's opponent, Joseph Holmes, is making his UFC debut. Holmes has a 100% finish rate, and is undefeated since his first ever pro fight in 2019. Holmes debuted in Bellator for his first fight, after an impressive undefeated amateur career. Pickett is the shorter man in this matchup, and the older man too. Holmes should have the advantage of reach as well as explosivity.
It's hard to see this fight going the distance, but I think Holmes will get it done. Pickett might have dynamite in his fists, but performances like the one against Staropoli hurt his image, it was an incredibly poor showing from both men, no urgency whatsoever, and Pickett had the ability to end it if he just tried. If Pickett couldn't manage with the smaller Staropoli clinching him against the fence, I don't see him handling the larger man in Holmes.
My prediction – Joseph Holmes by finish
Kattar vs Chikadze – Main Card
Bill Algeo vs Joanderson Brito
I don't know much about either of these fighters. What I do know is that Joanderson Brito is making his UFC debut, and Bill Algeo has name value. Brito is coming into this fight with wins over fairly seasoned opposition prior to signing with the UFC, he also boasts an impressive 85%-ish finish rate in his 12 victories.
Bill Algeo is a middle of the pack fighter who has struggled with his UFC tenure, dropping 2 of his 3 fights, and even losing on DWCS a while back. I feel like this fight is the UFC's attempt to give an up and coming prospect in Joanderson, a good win over a name value opponent.
My pick – Joanderson by UD
Dakota Bush vs Viacheslav Borshchev
I sort of want Dakota 'Hairy' Bush to lose simply because of his godawful nickname, it's simultaneously the best and worst fighter nickname I've seen to date.
He's up against tough competition in Borshchev, this Russian native is on a finishing streak right now, most recently knocking out Chris Duncan on DWCS, which really leaves an impression. His striking is crisp and effective.
I think Borshchev knocks Bush out to take the victory.
My pick – Viacheslav Borshchev by knockout
Katlyn Chookagian vs Jennifer Maia
This is one of the fights of the night. What else is there to say? We have two fighters here with 23 decisions between them. I think Chookagian has the edge in striking and experience, she was decimated by Valentina in her title fight, but has shown great promise dispatching other top contenders in the mean time (except Jessica Andrade). Chookagian is light on the feet, with exceptional grappling and decent striking.
Maia on the other hand does not have the striking acumen, but should certainly have the advantage in grappling. though I'm afraid Chookagian won't let the fight touch the ground, instead opting for on the feet point fighting. I see a typical Chookagian decision victory.
My pick – Chookagian by UD
Brandon Royval vs Rogerio Bontorin
This fight is the true co-main event, a battle between two top ten flyweights is somehow outweighed by the sloppy heavyweight matchup that will be Jake Collier vs Chase Sherman.
Both Brandon Royval and Rogerio Bontorin are legit top ten talent in the flyweight division, they're also both very exciting fighters. Royval is coming off of two losses to Brandon Moreno (current FW champ) and Alexandre Pantoja respectively, which is nothing to be ashamed of. Bontorin last beat Matt Schnell, and before that was finished by Kai Kara France in the closing seconds of the first round, in a fight he was handily winning beforehand.
I think with Royval being the taller man, his efficient striking will shine through as he has the advantage over Bontorin. Royval is also a proficient grappler, so is Bontorin but that extra length might pay dividends as the fight goes on.
My pick – Royval by UD / SUB
Jake Collier vs Chase Sherman
I can't fathom why this fight is co-main event. It doesn't even have heavyweight banger written all over it. Collier has looked really awful since his move to heavyweight. That said, he's fought some pretty tough opposition recently, including Tom Aspinall who finished Collier in the first round.
Chase Sherman is an absolute unit who has 14 knockouts in 15 victories, which is insane. I don't see the sloppiness of Collier working in this matchup, Sherman knocks him out.
My pick – Chase Sherman by knockout
Calvin Kattar vs Giga Chikadze
This is Mr. Punchy vs Mr. Kicky, except Mr. Kicky is also a very good boxer. I remember when the UFC promotional team and Joe Rogan were hyping Kattar up as being 'The best boxer in the UFC' before being clobbered by Max Holloway for 25 straight minutes. This is Kattar's first appearance since the Holloway fight, he really did get blasted in that fight, he may not even be the same person coming into this matchup.
The fact Kattar's first opponent since Max is Chikadze, a Georgian kickboxing phenom on the up and coming, is testament to his raw toughness and grit. Even though Kattar took a record setting beating, I was impressed by his resilience and heart.
Sadly, I think this is a mismatch. Giga has already been battle tested by another phenomenal striker in the form of Edson Barboza, and he dismantled him handily (which saddens me, Barboza is one of my favourites).
Chikadze by all rights should outbox and outkick Kattar. If it goes to the later rounds, I can see Kattar holding an advantage, he shows a good gas tank and perseverance in the later rounds, as represented by his five round event with Zabit Magomedsharipov where Kattar started to win those later rounds.
My pick – Chikadze by UD
What do you think of my picks? Anything you agree or disagree with? Drop a comment and let's compare the outcomes of our predictions when UFC Fight Night: Kattar vs Chikadze is over and done with!
Mathew is a UK based combat sports writer. His work can be found in MMAKnockout and Heavy on UFC. Contact Mat via [email protected]